A split-second action can change the future… forever.
MI6 field operative Dr Sam Noor is up against it.
His oldest friend is in danger, his colleagues are untrustworthy, and his wife feels betrayed.
For so long he's balanced idyllic home and lethal career, but that lie has been uncovered, and his carefully separated worlds fiercely collide.
Distraught and conflicted, Noor concentrates on his latest mission and discovers the terrifying truth behind attacks on agents around the globe. With time running out, Noor has to take down the super-terrorists with powerful connections before they unleash their next-gen weapon on an unsuspecting world.
But Noor has no way of knowing forces beyond his understanding are manipulating reality around him and the stakes are higher than he could ever have believed.
Suspicious of everything he trusted, with politics biting at his heels and traitors changing the game, can Noor protect millions from a bloody end?
Grab The Trusted and start part one of this extraordinary series today!
Everything changes when the lies are revealed
MI6 field operative Dr Sam Noor gets to the truth in any way possible.
Whilst overseas in the CIA, interrogating terrorists, he's unaware that his wife Ellie faces similar treatment from his own employer. MI6 want answers and they think Ellie has them
She hasn't.
Everything falls apart and shocking decisions are taken, putting Ellie in the line of fire. Devastated by events, Noor's revenge ripples from the Oval Office through the CIA and MI6.
Disgraced, Noor returns to the UK only to discover he's been played. With no other option, he goes rogue and abducts the one who holds the truth. As Noor learns what really happened, his sense of duty is corrupted.
Caught up in the political crossfire, forced to bury the treachery, Noor must stop the super-terrorists from releasing the world's most powerful weapon, but other forces beyond his comprehension are directing the way fate will flow.
With little time on his side, Noor must make a choice – speak or stay silent. And what he decides could change the future of the world.
Buy The Dominant and continue part two of this extraordinary roller-coaster ride on steroids!
With World War III imminent, who will save the world?
Ellie Noor's hope hangs by a thread. Tortured to within an inch of her life by sadistic terrorists, she's horrified to learn her husband's efforts to keep her alive her cost a half-a-million lives. But grief must wait as Ellie is swept up in an interdimensional attempt to stop all-out nuclear destruction.
Shocked to discover the key to saving Earth lies inside her, she becomes a potent instrument to respawn Earth's lost protector. But with the world's atomic arsenals locked and loaded, and sinister beings on the attack, she fears only an unfathomable miracle can halt humanity's extinction.
Can Ellie unleash her hidden power and prevent her planet's annihilation?
If you like fast-moving action, supernatural suspense, and powerful players at war, then you'll love this mind blowing, provocative novel.
Buy The Resonance to continue part three of this extraordinary roller-coaster ride on steroids!
She's now a fully-fledged Protector. But her formidable extraterrestrial powers may not be enough to save humanity from itself.
Ellie Noor longs for an end to the constant fighting on Earth. Now fully alien and nearly invincible, she and her superhuman husband are busy stamping out terrorist armies worldwide. But her heart breaks when a new global alliance for peace makes its first initiative a mass execution of its enemies.
Suspicious of the motives of the movement's creator, UK Prime Minister Ashton, Ellie's search for answers only leads to startling revelations. And her former-MI6-spy husband isn't helping matters by kowtowing to the British leader. With political havoc and cosmic dangers threatening, one wrong move could spell disaster for millions…
Can Ellie balance the forces at play before humankind is wiped off the interstellar map?
If you like mind-blowing suspense, ancient alien powers, and espionage intrigue, then you'll love this fast-moving, intriguing adventure.
Buy The Refracted to continue part four of this extraordinary roller-coaster ride on steroids!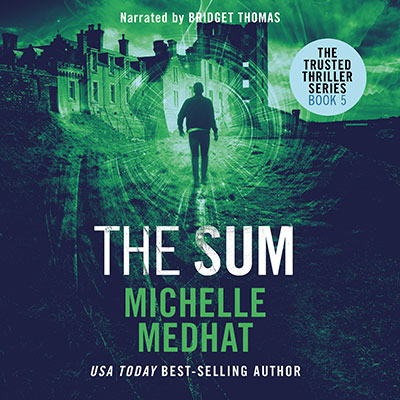 Earth is in harmony, its people free. But behind the mask of tranquility lurks a dark and deadly danger.
Ellie Noor fears her alien powers may not be enough to keep the peace. Brushing off her husband's insistence that she's just paranoid, the powerful Protector's suspicions prove correct when two high-ranking politicians are kidnapped. And when the lionized British Prime Minister announces the death penalty for anyone betraying his leadership, Ellie knows evil is closing in…
Battling the lure of the darkness that tries to claim her, she races once more to prevent the world from falling into chaos. But despite her extraordinary abilities, the human-alien woman is about to face her deadliest threat yet… herself.
Can Ellie stop benevolent calm from turning into bloodthirsty totalitarian terror?
If you like cosmic conflicts, high-stakes action, and addictive characters, then you'll love this earth-shattering finale.
Buy The Sum to discover the mind-blowing conclusion to this extraordinary roller-coaster ride on steroids!